The human immunodeficiency virus, more commonly referred to as HIV, as well as acquired immune deficiency syndrome, or AIDS, are conditions that are caused by a viral infection. The further on advancement of HIV leads to the development of AIDS. This is notable for the defined appearance of additional infections as well as a low CD4+ cell count. Upon initial infection a person may not exhibit any symptoms, though some patients have demonstrated a brief period with flu-like symptoms. As the infection progresses the patient may begin to suffer from a depleted immune system. This may be detrimental as it makes the body susceptible to maladies it would otherwise be able to fight off by itself. Several examples of this include, but are not limited to, tuberculosis, tumor growth, as well as other opportunistic infections. Infections that begin to take place during these later stages mark the transition from HIV to AIDS. Additionally, patients may experience drastic weight loss and lack of appetite.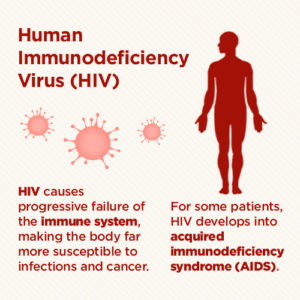 Unprotected sex, the sharing of needles, and contaminated blood transfusions are several ways that the HIV virus is spread.  As of 2018 almost 40,000,000 people worldwide are living with HIV/AIDS and it resulted in the death of more than 800,000. Since its discovery in 1984, HIV has led to the death of some 30,000,000 deaths worldwide. Based on the severity of the condition, HIV/AIDS has been designated a pandemic by world health organizations. If you or someone you know is suffering from the HIV virus, please contact our team of professionals to schedule an appointment to see a licensed Florida marijuana doctor to receive your Florida medical marijuana card to legally posses cannabis today.
Related Article: Marijuana Card Doctors For HIV Patients in Orlando
HIV is diagnosed by lab testing and treatment is recommended immediately upon its discovery. While there is no outright cure for HIV/AIDS, there are many treatment options available. The most common treatment option includes high active antiretroviral therapy which is a mixture of different pharmaceuticals that help to delay the disease's progression. While there is no cure presently, patients that adhere to the antiretroviral prescriptions have been found to extend their life span to that of a non infected person.
Research on the effectiveness of medical marijuana is limited, however there have been a number of positive studies that reflect the plant's efficacy in eliminating vomiting, nausea, and also acts as an appetite stimulant. Besides a comfort factor, these effects can also help a patient regain weight loss due to the virus. Cannabis has also been proven to target neuropathic pain that is brought on by the HIV virus. Besides the reduction in symptoms caused by HIV, cannabis has also been shown to act as an inhibitor of HIV/AIDS progression. While early generation drugs were associated with a painful nerve condition known as peripheral neuropathy, cannabis has been shown to reduce these additional side effects.
Related Article: Steps To Getting Your Marijuana Card Florida
The following article and research information is for educational purposes only as All Natural Health Certifications in Florida provides this information as an understanding of the medical and health benefits associated with medical cannabis. We have locations all over the State of Florida to assist you with a Florida medical marijuana card and marijuana doctor recommendation including Orlando and Tampa as seen below:
All Natural Health Certifications – Orlando, FL
390 N Orange Ave St. 2300,
Orlando, FL 32801
As well as a location in:
All Natural Health Certifications – Tampa, FL
3825 Henderson Blvd, Suite 401,
Tampa, FL 33629